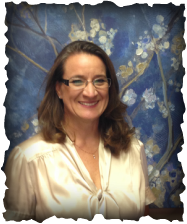 Veronica Schulz
Level I & II Reiki Practitioner, Medical Reiki Master
EMAIL VERONICA

Veronica has been a Reiki practitioner since completing her Level I and II certifications in January, 2013, and is currently furthering her Reiki education by taking an extended Usui based Reiki Master and Teacher program, taught by her mentor and Master/Teacher, Bonnie Buddin.  Veronica received her Master/Teacher certification at the completion of this course in June, 2016.
"I first learned about Reiki when the Cancer Treatment Centers of America was promoting the implementation of a holistic approach in helping their patients fight cancer.  This approach included the energy modality of Reiki combined with their traditional cancer treatments.  Their studies have shown that adding energy treatments to traditional treatments lowered the patients nausea affects from chemotherapy, promoted their own ability to heal and recover, and offered greater relaxation and stress reduction.   I felt this was an opportunity for me to help those who have cancer, by offering them and their caregivers an additional resource in their journey towards recovery."
Since completing both the Level I and II Reiki certifications, Veronica has joined the volunteer team as a Reiki practitioner with the non-profit organization, LifeSpark Cancer Resources.  She has been a volunteer since 2014, and has been providing mini-Reiki sessions as well as one-on-one Reiki sessions to participants who are currently undergoing cancer treatments.
While Veronica is very passionate about Reiki and its positive effects for the cancer patient, she is moved to helping anyone seeking a higher state of relaxation, stress reduction, and balance, as well as enhancing each person's ability to heal themselves.
EMAIL VERONICA

 

to set an appointment on Sunday or Monday.
Reiki Practitioners
July 12, 2016